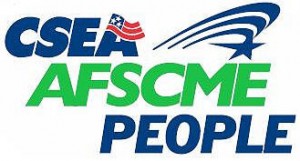 How PEOPLE Works for You
Protects the quality and access of health insurance for active and retired members (passed legislation that created a task force to recommend cost-effective strategies for protecting affordable health insurance coverage for retired public employees).
Stands up against hostile editorials, anti-labor organizations and holds politicians accountable for their decisions.
Fights against demands to give back contractual raises and reopen contracts.
Preserves essential services, protects jobs and fights layoffs.
Maintains a safe and healthy workplace and protects employees from unnecessary harm with the passage of the Workplace Violence Prevention Act.
Secured significant funding for state fiscal relief, education aid, and infrastructure projects. (New York is to receive at least 24.6 billion from the American Recovery and Reinvestment Act over a two-year period.)
Passed cancer screening legislation.
Protects Social Security from privatization.
Download a PEOPLE Question and Answer brochure
Join PEOPLE today!
Get involved in PEOPLE by:
Making a PEOPLE donation. Individual contributions can be made by check, money order, cash or credit card.
Signing a payroll deduction card for PEOPLE check-off. Check with your local to learn if this option is available.
Signing up for Electronic Funds Transfer (EFT) through your regular checking or savings account.
Getting active in your unions PEOPLE committee
Contacting CSEA PEOPLE by phone at (800) 342-4146, ext. 1404, or (518) 436-8622.
To join PEOPLE, call the number listed above,  or download a printer-friendly application.
Payroll deduction/direct contribution
Download and application for retirees
Become a P.E.O.P.L.E. Recruiter at your Local!!
Join a growing team of activists who are working to protect your pensions.
Join a growing team of activists who are working to protect health benefits.
Join a growing team of activists who are working to protect our jobs.
Help recruit co-workers to join PEOPLE by making them aware of the important issues that affect us all.
For more information, call the CSEA PEOPLE program at (800) 342-4166, ext. 1404
Or
Email us: peopleceainc.org