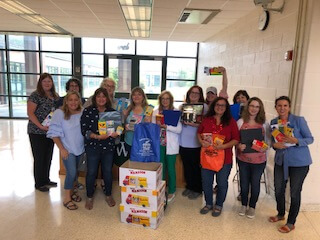 William Floyd Clerical – Suffolk Educational Local 870 school district members donates back to schools ! William Floyd clerical donate to Billy's Closet" in the William Floyd School district ! The community school children can go to the pantry to get school supplies ! All school district participants from Our Local 870 school district conference donated supplies and The Local  distributed school them accordingly !

The Navarro Team Local 870
2019 Scholarship Winners
1. Jocelyn Hyner- West Babylon Senior High School
    Parent Member- Holly Batson-Hyner (West Babylon School District)
    Unit President- Delores Palazzo
2.Melissa Newman- Patchogue/Medford High School
   Parent Member- Kelly Newman (Patchogue/Medford School District)
   Unit President- Michelle Jordan
3. Katie McNulty- Miller Place High School
    Parent Member- Lisa Biondo (Miller Place School District)
    Unit President- Maria Tyler
4. William Bennett- Kings Park High School
    Parent Member- Joanne Bennett (Western Suffolk Boces)
    Unit President- Lynne Degenfelder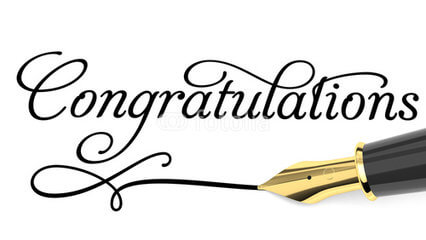 MY CSEA APP
My CSEA application is a member exclusive app that is designed to give CSEA members access to various benefits, discounts, news and events and much more.


CHECK OUT THE 870 NEWS PAGE  (CLICK HERE)

CLICK HERE TO GO TO OUR FACEBOOK PAGE FOR MORE UP-TO-DATE LOCAL NEWS

2019 MEMBER CONFERENCE PHOTOS (click here) 🙂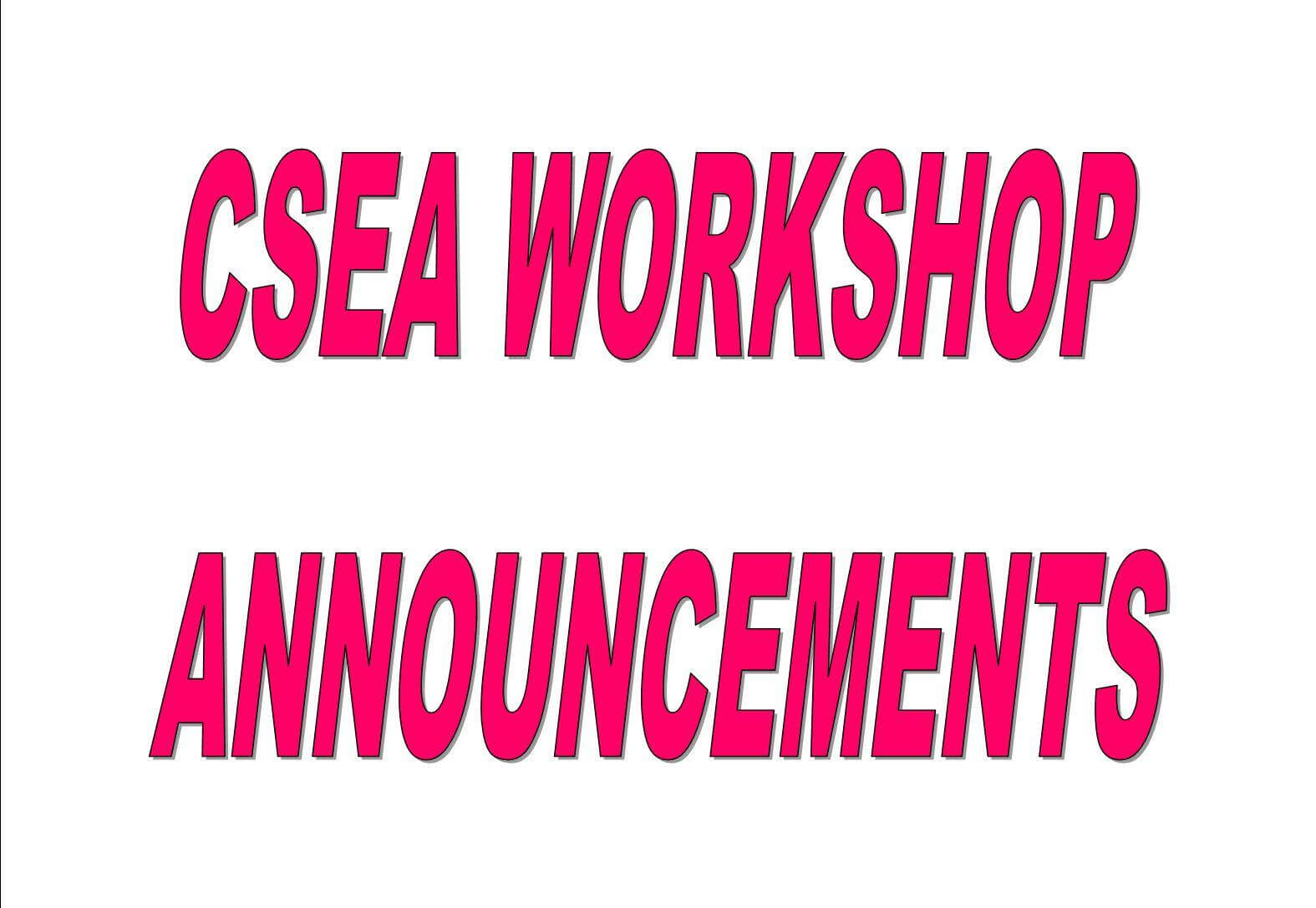 CLICK HERE FOR CSEA   WORKSHOP ANNOUNCEMENTS
FOR OUR OFFICERS, FUTURE OFFICERS & ALL MEMBERS
ATTEND, LEARN, BECOME AN ACTIVIST

  2018 CSEA LOCAL 1000 SCHOLARSHIP WINNERS FROM LOCAL 870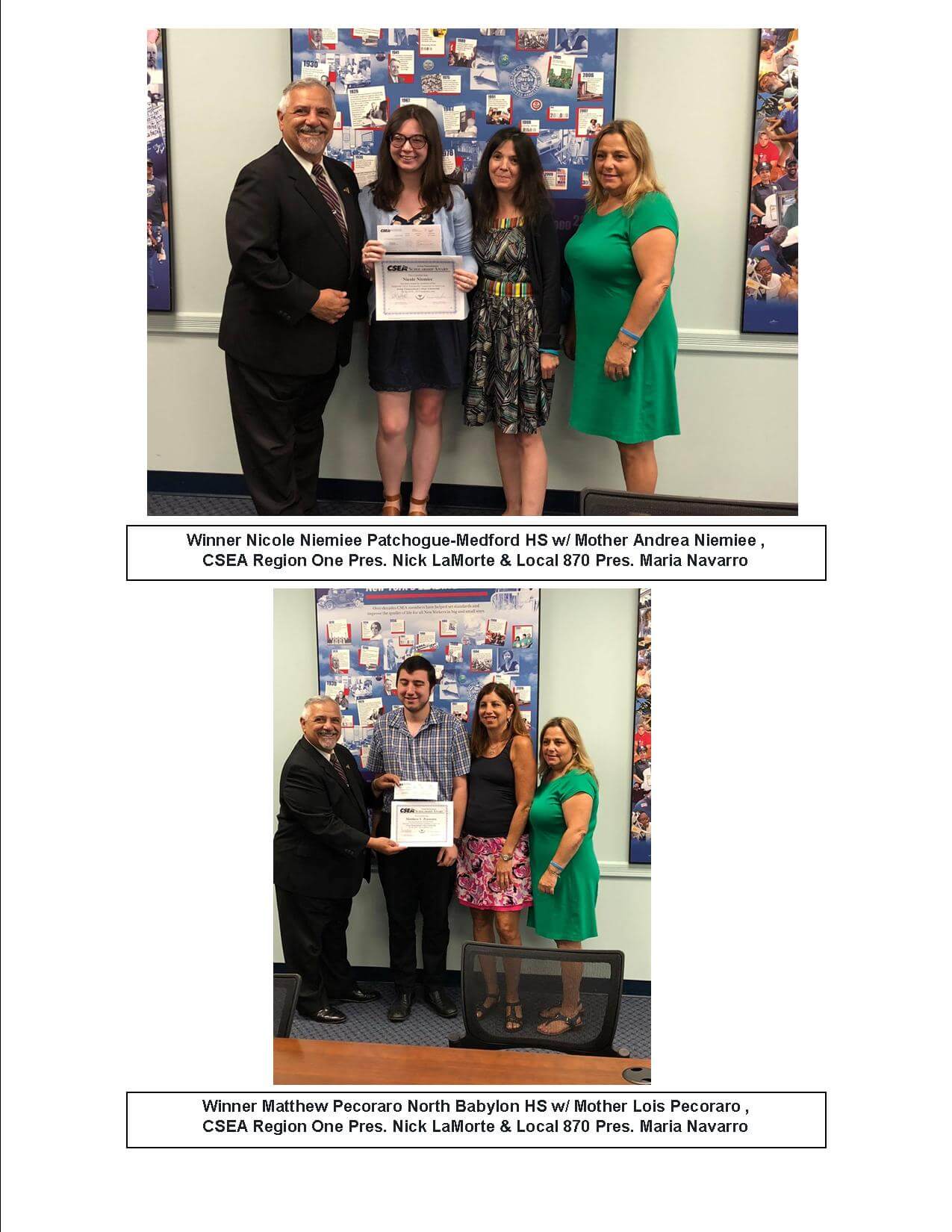 Hundreds Benefit from Local 870 One-Day Conference
Over 650 members of Suffolk Educational Local 870 attended a one-day conference this past 
Saturday
. CSEA President Danny Donohue attended along with Statewide Secretary Denise Berkley, Statewide Treasurer Bill Walsh, and Long Island Region President Nick LaMorte. There was a lot of energy in the room as members from the 61 units that make up Local 870 learned how to:
take advantage of CSEA member benefits;
help keep CSEA strong into the future;
take better care of themselves;
be prepared in an active shooter situation;
navigate the world of social media; and
prepare for retirement.
Take Advantage of CSEA Member Benefits
Local 870 members heard firsthand all the benefits that CSEA membership has to offer. These benefits include:
$10,000 accidental death benefit at no cost for members in good standing. Don't forfeit this valuable benefit! Take a few minutes and submit this online beneficiary form.
Injury related legal representation and support including workers' compensation, social security disability, personal injury, and veterans disability.
Savings on life, homeowner, auto, boat and motorcycle insurance.
Discounts on groceries, movies, restaurants, theme parks, sporting events and more.
Help Keep Our Union Strong
Conference attendees learned that anti-union groups will likely be urging members to quit our union. These corporate-backed Right to Work groups are spending millions on a nationwide campaign to deceive union members into thinking they'll be better off if they quit our union. Don't be fooled! Free riders weaken unions for everyone. Help keep our union strong! Call us at 518-257-1263 or 
email us
 if you're contacted by any anti-union group, you want to learn more about how to keep our union strong, or you want a Never Quit presentation at your work site.
Thank you to all who attended the one-day conference. Stay union, stay strong!



---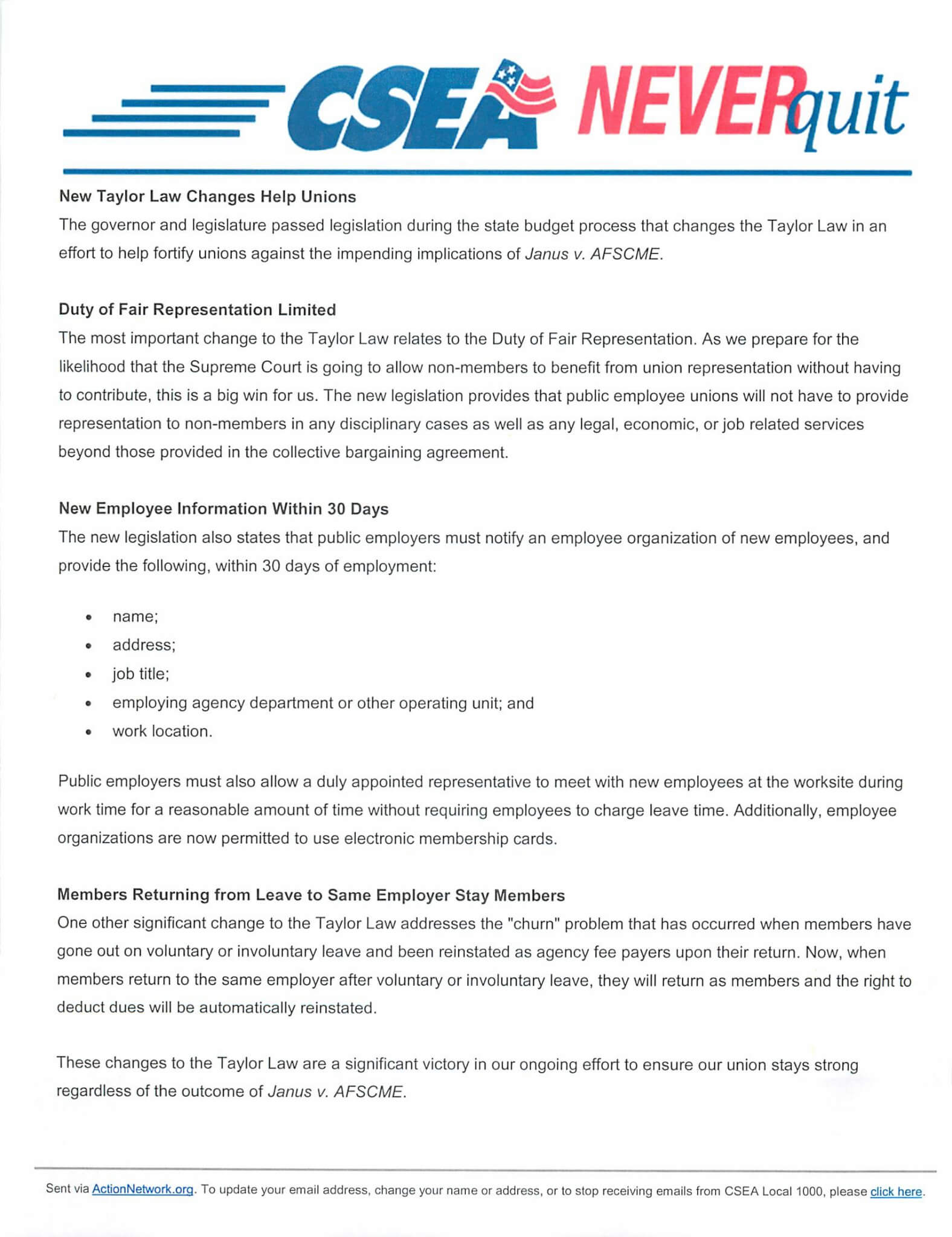 ---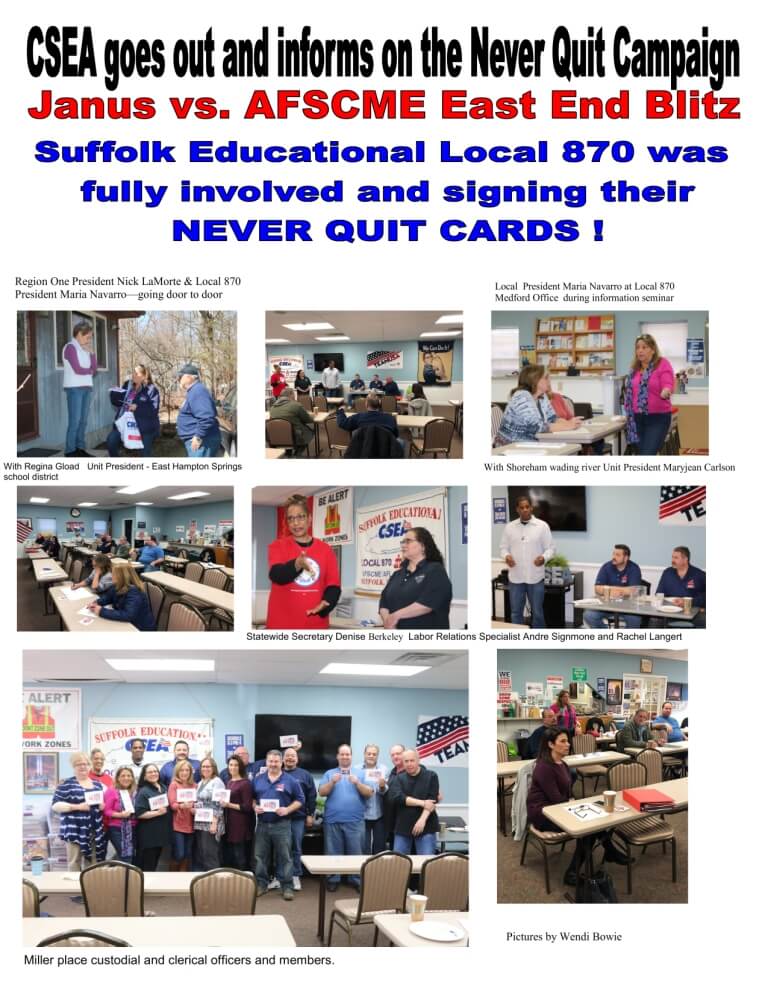 ---



Click here to go to BUDGET FORMS

CLICK ON THE LINK BELOW FOR ONLINE COLLEGE COURSES FROM AFSCME
A FREE BENEFIT FOR LOCAL 870 MEMBERS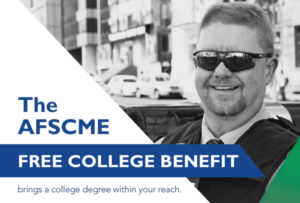 Defensive Driving August – Dec 2018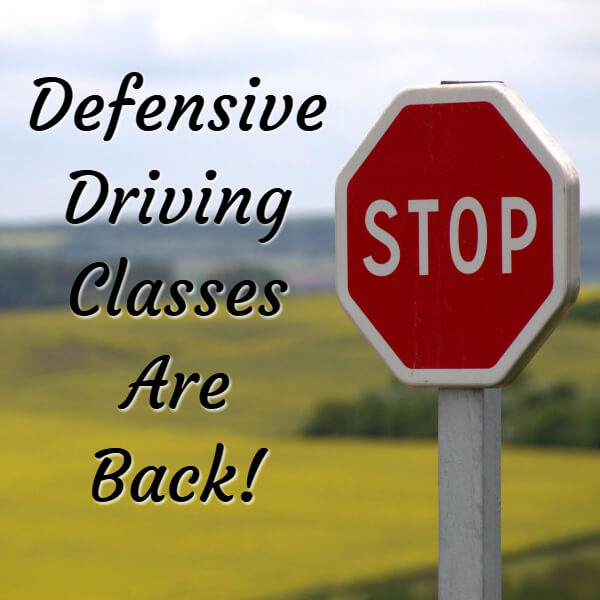 The Autumn Defensive Driving class schedule for 2018 is up!
Reduce up to 4 points on your driving record and Save 10% for 3 years on auto insurance with New York Safety Program's 6 hour driver improvement course.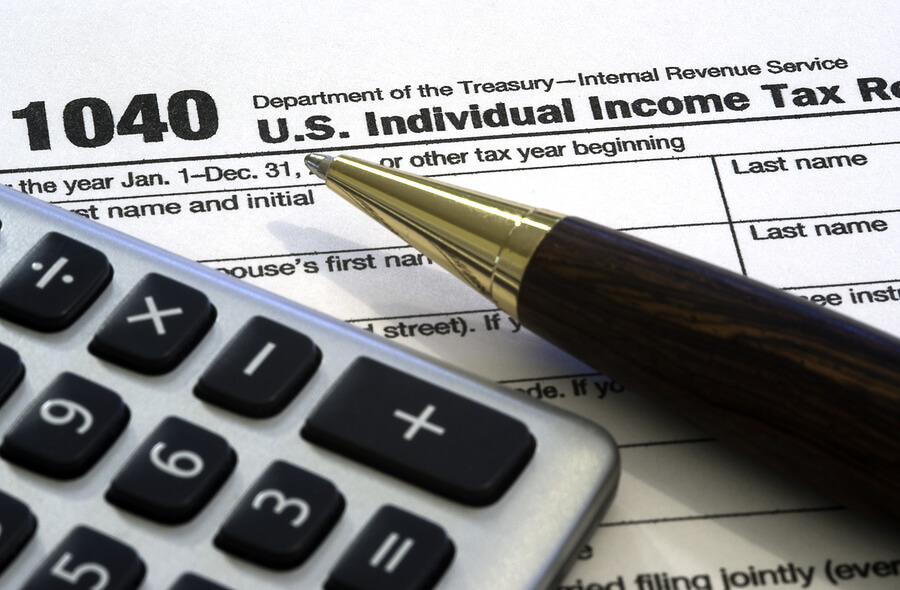 Expert Tax Preparation For CSEA Members At A Discount!
Staff of CPA's and Enrolled Agents

Free review of prior 3 years of tax returns

We have been able to amend past tax returns and increase our client's refund for prior preparer errors or oversights.  Read more ›




The Big Picture: Strong Unions Strengthen Economy